BitFence.io, LLC
REMOVE HACKERS FROM YOUR NETWORK
---
min

$10k
max

$1070k
funding goal
Reg CF
exemption used
$250.00
min investment
$750
amount raised
2
investors
Security Offered:
Debt Until Security Token Offering.
See description of offering below.
---
Our Mission and Vision
Bringing Back User Confidence
Consumers are typically confident that they're safe online and that their information is in good hands. But hackers have proven otherwise time and time again. Data theft is an issue that will only continue to grow over time and every moment counts.
There is a better way to solve this burning problem.
BitFence.io is advanced cybersecurity solution that will proactively identify hackers and distribute their profile information to the protected community over our decentralized blockchain network.
BitFence aims to reduce the average detection time of zero-day cyber threats dramatically. The goal is to provide a proactive defensive solution to protect other systems from similar cyber-attacks.
Debt Until Security Token Offering
"DUSTO"
Interest Rate
15% simple interest shall accrue and be payable at the Maturity Date in Tokens or in cash, as applicable.
Profit Distributions
DUSTOs will automatically convert into digital blockchain tokens upon our Security Token Offering. Token holders will receive profit distributions based on the platform's performance after costs plus 20% are retained by the Company.
Equity Distribution
We intend for the holders of the Tokens to benefit from a potential increase in value of our Company's equity. Tokenholders will be granted a contractual right to receive consideration that is equivalent to a 25% member in the LLC, which will be distributed upon the occurrence of a Company Sale. If a Company Sale occurs, each Token will be eligible to receive the consideration allocated to these "phantom shares" on a pro-rata basis.
Maturity Date
The DUSTO will mature 30 days after our planned Security Token Offering. If a Security Token Offering has not occurred before January 31, 2022, the DUSTO will be repaid in cash.
Bonus Tokens
By investing in the DUSTO by the dates listed below, you will receive the following bonus tokens at the time of our Security Token Offering:
30% bonus Tokens if a Lender invests in the DUSTO on or before September 30, 2018.
25% bonus Tokens if a Lender invests in the DUSTO after September 30, 2018 and on or before October 31, 2018.
20% bonus Tokens if a Lender invests in the DUSTO after October 31, 2018 and on or before November 30, 2018.
15% bonus Tokens if a Lender invests in the DUSTO after November 30, 2018 and on or before December 31, 2018.
10% bonus Tokens if a Lender invests in the DUSTO after December 31, 2018 and on or before the Offering Deadline.
All dates end at 11:59pm Pacific Time (PT).
By way of illustration, if the aggregate amount due and payable under a DUSTO is equal to $1,000.00 and the Token Price is equal to $0.50 per Token, you would receive 2,000 Tokens. If you invest in the DUSTO after July 30, 2018 and on or before October 31, 2018, the Lender would receive 25% bonus Tokens, or an additional 500 Tokens.
Redemption Right
The Company will hold redemption rights which may be exercised by the Company only upon the approval of the tokenholders holding a majority of the tokens then outstanding, excluding any tokens held by the Company, a potential acquirer of the Company if the redemption right is exercised as part of a sale of the company, or any of their respective affiliates.
Please read the Offering Memorandum included in the Form C below for details on the DUSTO and our planned Security Token Offering.
How It Works
An Overview Of The BitFence Platform
BitFence offers its users tools to identify and defend against the threat of cyber-attacks. The goal is to protect networks before any harm can occur to them and their related assets.
BitFence's ecosystem consists of the following three main parts:
Part One
Installation of BitFence's proprietary Distributed Sensor Network (also known as Distributed HoneyNet). BitFence.io offers incentives to anyone who runs BitFence designed software and/or hardware "miner". These miners will automatically detect and report suspicious cyber threat related activities. The users running these miners on their network will be rewarded through the distribution of BitFence "HNY" Tokens.
Part Two
Malicious and suspicious data being gathered by miners will automatically be analyzed, processed, and ranked (in accordance to its risk factor) by artificial intelligence algorithms in real time. The list of signatures will be updated accordingly
Part Three
Finally, once the data is processed and malicious actors (hackers) are identified, the information is instantaneously fed to all BitFence subscribers, protecting them from similar threat
Mining will be done by globally dispersed individuals utilizing BitFence.io devices and software. Mining platforms are integrated with BitFence servers, performing real time threat risk assessments of the collected hacker signatures. Once a threat has been evaluated by the AI engine, the signatures are deployed to subscribed individuals and businesses in order to protect them from zero-day attacks and other cyber security threats.
BitFence.io protection will benefit a wide range of industries and customers. Small, medium and large business enterprises, Financial and Healthcare industries, the Banking sector, Defense and Aerospace companies, Academic Institutions, Oil and Gas industries, Individual internet users, NERC CIP Regulatory compliance power utilities, and virtually every other individual or entity which deals with sensitive information on their network.
The Problem
Keeping A Step Ahead Of Hackers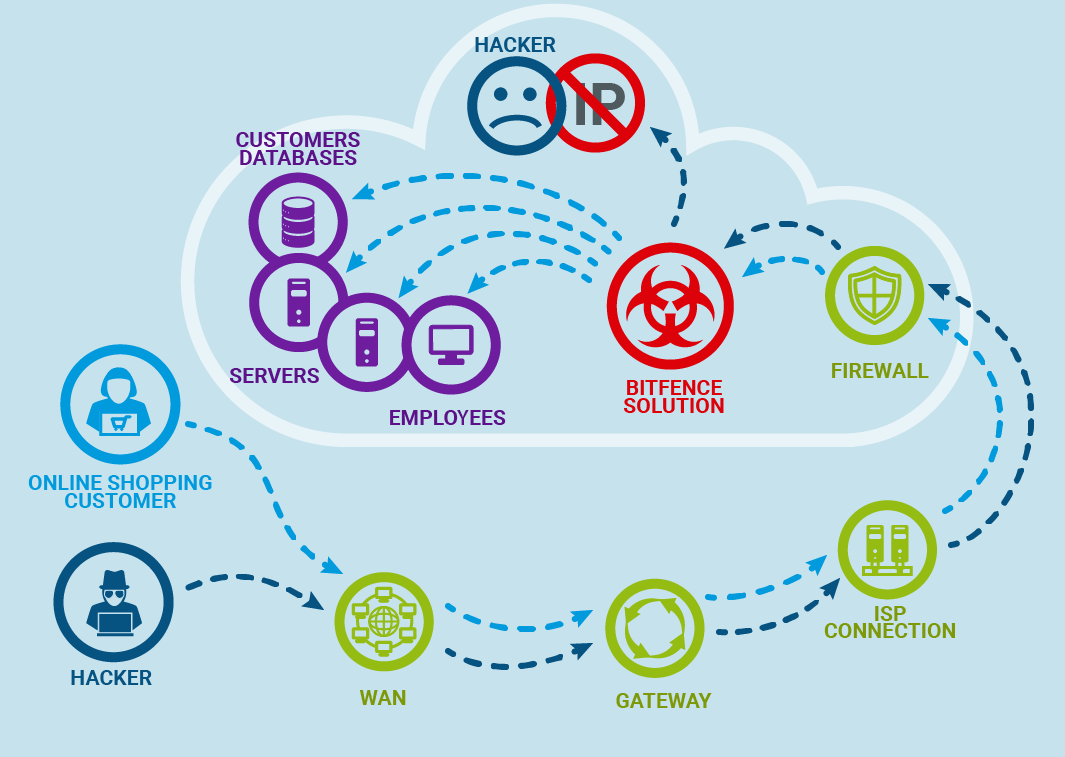 According to the 2017 Norton Report, hackers took $172 billion from 978 million consumers in 20 countries, with a reported average loss of $142 per victim. 143 million consumers were victims of cybercrime in the United States alone – more than half the U.S. adult online population.
And that doesn't even address the time lost dealing with the aftermath.
There isn't a company in the world today that is immune to attacks by hackers. Worse yet, the average detection time to a 2015 Ponemon Report is 256 days. That's plenty of time to inflict enormous economic and privacy damages before moving on to repeat similar attacks against multiple targets before anything is detected.
Our Solution
Removing Hackers From The Network
The Mission of BitFence is to dramatically reduce the average detection time of zero-day cyber threats, as well as adopt and deploy a proactive defensive approach/solution to protect systems from similar cyber-attacks. The overall vision of BitFence is to provide a zero-day threat intelligence solution to protect people from malicious attacks. Our platform will help companies, as well as individual users, select a suitable security solution to meet their needs. BitFence will help implement and integrate its solution with existing networking hardware and software with very minimal modifications or configuration changes.
Our community members will "mine" hacker activity by running HoneyNet nodes, essentially "trapping" hackers. As these attacks breach a BitFence "Honeypot," the system captures and analyzes their signatures using our custom designed Artificial Intelligence software, delivering alerts and threat protection to all our subscribers.
If a BitFence miner running in the United States faces an attack by hackers, all Bitfence subscribers, located in any region (Europe, Asia, Africa, etc.), would be protected from similar attacks in seconds.
Once installed, the BitFence system will create threat landscape reports to meet compliance/regulatory requirements. BitFence also created an opportunity for miners around the globe to serve as the "eyes and ears" for the BitFence Threat Intelligence Network.
Miners will use the BitFence designed software called 'StingMiner' to record hackers' digital fingerprints and communicate the threat information back to BitFence. Upon successful risk assessment and evaluation, these miners will be rewarded with HNY tokens (described below). The greater the risk score of the threat, the more tokens the miner will be rewarded.
Capabilities of BitFence zero-day cyber threat solution are as follows:
• Detect, prevent, and respond to cyber security threats
• Receive threat information from miners and assess threat signatures
• Deploy and update threat information to subscribed systems in order to mitigate systems with the same or similar threats – thereby protecting systems from zero-day attacks
• Offer mining to its cyber defense force with the BitFence Sting Miner; utilizing proprietary software.
• Integrated reward solutions to BitFence miners once threats are assessed. Rewards are based on the score from a successful risk evaluation
• Integrate with existing networking architecture with very minimal configuration changes - Provide an interactive dashboard and offer the ability for users to generate customizable reports
Analyses and Risk scoring of threats are to be done utilizing proprietary BitFence Threat Intelligence Engine that uses several patent-pending methods including AI:
• Fuzzy matching of threat footprints using weighted probabilistic matching methods
• Support Vector Machines (SVM), Bayesian techniques, and decision trees classifiers
• Neural Networks, continuously trained with validated and peer reviewed data
Progress
Where We Are Now
On July 1 2018 BitFence launched it's TestNet including StingMiner software for Raspberry Pi and proof-of-threat mining pool.
As of today we are getting 150,000–200,000 validated threat submissions a day, with a total count of submissions in millions.
Current StingMiner software version 0.2 contains multiple bugfixes and proved to be very stable. We are getting ready 0.3 version which will further address issues reported by the community and will contain many improvements.
BitFence has aggressive marketing plans for the promotions of its products and services. This plan features a design built to ensure the continued healthy growth of the company's zero-day cyber threat solution.
BitFence is confident that its offering is the best, most cost-effective cyber-security platform with the potential to attract a high volume of customers in the future. Our marketing will focus on targeting individual users, small businesses, and corporate customers who are currently spending inordinate amounts of money on their current security solutions. The goal is securing long-term contracts with these potential customers by providing a superior product/service, at a lower cost.
Also, BitFence also has plans for a CyberStore where its products and services will be sold. With a simple selection process, buyers will be able to buy BitFence products and services according to their personal and business needs. Users will complete purchases using HNY Tokens they've earned using the service.
The relationships with our miners and subscribers are our highest priority. With this cooperation, we will be able to end many of the cyber-security threats that we are facing globally today.
Business Model
A Zero Day Solution
BitFence plans to generate revenue based on two different mechanisms: BitFence Subscription Services and BitFence Hardware Sales. The company will soon be launching its store called "BitFence Cyber Store." This will be a one-stop-shop designed to meet a variety of its customer's needs. The store will contain many product lines that will suit its customer's requirements. Customers would be able to pay for items and services by using HNY Tokens.
These "HNY" tokens are designed for redemption from our zero-day global threat intelligence feeds. Intelligence feeds are based on risk scores and packaged in a series of products or services and delivered using a subscription model. This includes, but isn't limited to:
- Risk scored zero-day global threat feeds
- WordPress/Magenta plugins
- Actionable and customizable global threat intelligence reports
- Email alerts
- BitFence mobile apps
BitFence HNY Tokens will provide a comprehensive economic model to enable the functionality of our cyber threat prevention systems. Payments for subscription services will use only HNY Tokens. Moreover, all rewards for BitFence Miners will also distribute as HNY Tokens.
HNY Tokens are standard Ethereum ERC20 smart contract-based tokens implemented within BitFence Business Logic. HNY Token unifies Threat Detection and Protection Service into a single ecosystem with a complete life cycle.
Individual users and Companies interested in earning HNY Tokens, are welcomed to join the BitFence Global Cyber Threat Community. These users can be referred to as "miners." Miners of HNY Tokens should be running the BitFence proprietary intrusion and malicious actor detection software called "StingMiner." StingMiner can run on existing hardware and/or as an isolated, low-powered mini-computer device such as Raspberry Pi or BeagleBoard. This virtual, compartmentalized environment will be completely isolated from the host system. The StingMiner software application will gather suspicious networking activities and provide an attractive target for hackers attempting to access these networks. The Proof-of-Threat mining algorithm method is used as a mining process for HNY Token. Once BitFence miners have captured valuable threat information and shared this data with BitFence, the threat is assessed and validated by the BitFence Risk Scoring mechanism.
Miners will be rewarded, and it will be distributed against the uniqueness and level of risk/threat has to systems – i.e., Low, Medium, and High. The higher the score, the higher the reward. In addition to using automated BitFence mining software, HNY Tokens can also be earned by submitting suspicious network traffic information, such as Firewall Rejection Logs, 3rd-party honeypot intrusion detection logs, ssh/ftp logs, etc. Furthermore, HNY tokens can be obtained by participating in the Token Generation Event.
Bitfence's pricing strategy is determined based on current threat intelligence services provided by competitors, such as FireEye, Infoblox, LookingGlass, McAfee, RSA, SecureWorks, Symantec, VeriSign, and others. Also, data feeds typically come in yearly based subscriptions (1, 2, or 3 Years) and the number of user licenses required. Vendors will also push their appliances, elevating the yearly operating cost.
The Following subscription services are planned for BitFence potential customers:
- Zero-day Threat Intelligence Feed subscription for Corporate Clients (Up to 2500 users)
- Zero-day Threat Intelligence Feed subscription for Enterprise Clients (From 2501 to 10,000 users)
- Zero-day Threat Intelligence Feed subscription for Corporate Clients (More than 10,000 users)
- "Lite" monthly subscription for Small Businesses
- "Ultra Light" monthly subscription for Home and Home Offices
**All subscriptions levels will have options for 3 Month, 6 Month, 1 Year, 2 Year, or 3 Year subscriptions.
The hardware/software solution that BitFence is planning to offer at its store are:
- BitFence Routers: these pre-configured secured routers can be purchased with integrated BitFence 3-month to yearly subscriptions with very affordable options (own/lease).
- Pre-installed Light Plug-n-Mine Raspberry Pi and BeagleBoard with StingMiner Software: can be purchased with very affordable price options. These devices will be used by BitFence miners to mine HNY Tokens
- SD Card images for Do-It-Yourself miners will also be available for users who already owned Raspberry Pi with lower prices
- BitFence software will be available to download as freeware. The software will be available in Windows/Mac/Linux platforms
- BitFence Plugin for WordPress and Magenta (Note: For mobile users, the software will also be available in Android and iOS in future)
Market Opportunity
Competition And Our Growing Cyber Landscape
The BitFence Threat Intelligence Engine is expected to receive high volume data from miners. The Measure of Effective (MOE) of BitFence threat intelligence data relies on quickly assessing the threat agents and deploying threat information to subscribed users to prevent their systems from being compromised by similar threats. Thus, the availability of BitFence Threat Intelligence Engine is critical for its mission success.
Interpreting threat intelligence data from many sources into actionable contextual information has always been a challenge faced by many security organizations. The reason is the probable misinterpretation between data points received by security appliances. It has always been a challenge for cyber-security personnel to determine which information and how much data is needed to be reviewed. During this practice, relevant information/data that is should be used for threat intelligence purposes usually gets overlooked.
The BitFence Threat Intelligence Platform/Threat Intelligence Management Platform has successfully addressed this issue by gathering, filtering, and analyzing all available data. The platform provides standard formats for inclusion into a vast array of security appliances and systems. Also, the platform provides detailed, customizable threat summary reports which can be used to create specific action items for security and IT professionals alike.
Selected Press, Blog Posts and Social Media
See How We've Been Covered In The Media
ICO Bench - BitFence: Remove Hackers From Your Network
Experts rate BitFence and our proposed platform.
BitCoin Exchange Guide - BitFence ICO (HNY Token): Blockchain Hacker Threat Intelligence?
A description of our previous offerings
Use of Funds
How We Will Operate
Software And Operations Costs
The bulk of our proceeds will go to software development and operations costs. This includes Platform Development, Salaries, Travel, and general operating expenses.
IT Patents And Legal
We will also set aside funds to support our IT patents and any legal needs our company may encounter along the way
Marketing And Business Development
A large portion of proceeds will go to our marketing efforts in order to spread word of our company and build our customer base.
Network Sensors And Other Operational Needs
Hardware needs and other operating expenses will also take our funds.
Our Leadership Team
Proven Leaders
Vlad Tereshkova
Co-Founder / Chief Executive Officer
Principal. Serial entrepreneur. Technologist, inventor, IP expert. PhD in Physics.
LinkedIn
William Mason
Co-Founder / Chief Business Strategist
Harvard Graduate, Principal.
LinkedIn
Dann Thompson
Co-Founder/ Chief Financial Officer
Seasoned executive with years of CFO and CEO experience for startup organizations.
LinkedIn
Our Advisory Board
Expert Advisors
Roger Freeman
Advisor
Senior Emergency Preparedness Consultant.
LinkedIn
Shah H. Sheikh
Advisor
Sr. Cybersecurity Advisor. Co-founder of DTS Solution.
LinkedIn
Marie Golson
Advisor
Technical Advisor. Master of Business Administration in Marketing.
LinkedIn
Other Disclosures
Read the
Form C
filed with the SEC for other important disclosures, like financial statements, Directors, Officers, shareholders with more than 20% of voting rights, and more.
Irregular Use of Proceeds
The Company may make Irregular Use of Proceeds. Such Irregular Use of Proceeds, which may be in material amounts in excess of $10,000, may include by way of example and not limitation: Vendor payments and salary made to management, business associates, relatives, related parties and/or affiliates thereof; expenses labeled "Administration Expenses" that are not strictly for administrative purposes; expenses labeled "Travel and Entertainment"; and expenses that are for the purposes of intercompany debt or back payments.

Without limiting the above, the Company may elect to vary from the proposed use of funds as circumstances or assessments of circumstances following the closing change.
Special Note Regarding Forward-Looking Statements
This offering contains forward-looking statements within the meaning of the federal securities laws. We caution investors that any forward-looking statements presented in this offering, or which management may make orally or in writing from time to time, are based on the Company's beliefs and assumptions made by, and information currently available to, the Company. When used, the words "anticipate," "believe," "expect," "intend," "may," "might," "plan," "estimate," "project," "should," "will," "would," "result" and similar expressions, which do not relate solely to historical matters, are intended to identify forward-looking statements. Such statements are subject to risks, uncertainties and assumptions and are not guarantees of future performance, which may be affected by known and unknown risks, trends, uncertainties and factors that are beyond the Company's control. Should one or more of these risks or uncertainties materialize, or should underlying assumptions prove incorrect, actual results may vary materially from those anticipated, estimated or projected. While forward-looking statements reflect the Company's good faith belief when made, they are not guarantees of future performance. The Company expressly disclaims any responsibility to update forward-looking statements, whether as a result of new information, future events or otherwise, except as required by law.

Moreover, we operate in a very competitive and rapidly changing environment, and new risks emerge from time to time. It is not possible to predict all risks, nor can we assess the impact of all factors on our business or the extent to which any factor, or combination of factors, may cause actual results to differ materially from those contained in any forward-looking statements we may make. In light of these risks, uncertainties and assumptions, the forward-looking events and circumstances discussed in this offering may not occur, and actual results could differ materially and adversely from those anticipated or implied in the forward-looking statements. We undertake no obligation to revise or publically release the results of any revision to these forward-looking statements, except as required by law. Given these risks and uncertainties, prospective investors are cautioned not to place undue reliance on such forward-looking statements.
BitFence